Lauren and Jenna met up with collaborators at the Zine Librarians UnConference, where we facilitated three Zine Union Catalog sessions (with links to session notes)
Grants and Decision-Making with Lauren and Jennifer (Austin Fanzine Project)

Library record ingests with Eric (ABC No Rio), Milo (QZAP), Hedge (zine maker), Ella (RIT), Kelly S. (MICA) and Jenna

Accessibility and WikiData with Kat (librarian and zine maker), Elissah (MCTC), Honor (Harvard), and Violet (roving zine librarian and zine maker)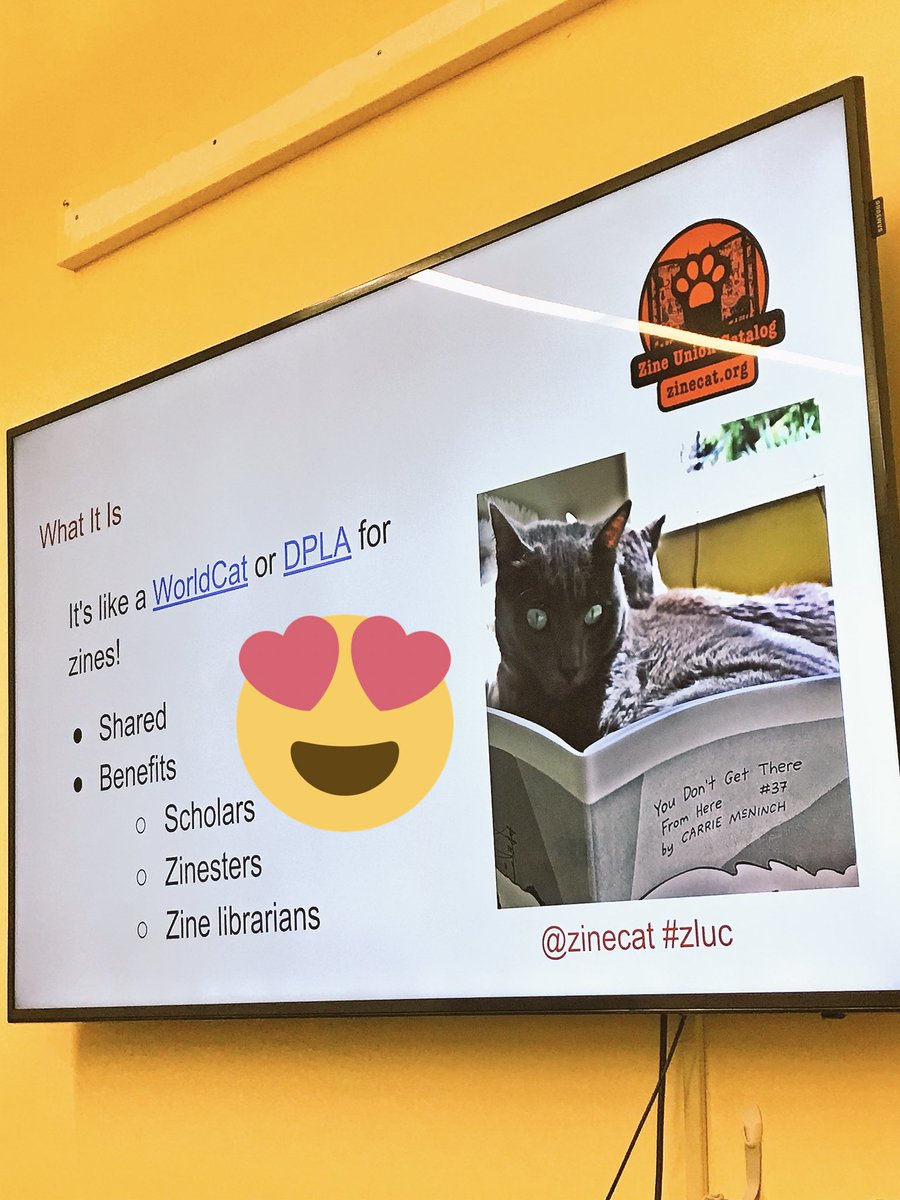 Photo from a Tweet by Ziba Zehdar
In general attending and leading discussions about ZUC at ZLuC helped us reinvigorate people already involved in the project and attract new collaborators, as well as connect Lauren face-to-face with other ZUC project partners for the first time.  (Lauren was really happy to meet everyone in person!!)
A few specific takeaways
ZineCat Update
Lots of talk about harmonizing metadata, including

SNAC

,

Western Name Authority Project

,

ISNI

, whether the old name authority model is even worth pursuing

Priorities for adding sample library records to the catalog: new-to-us-ness (no library in the catalog yet using the same schema), applicability to other libraries (e.g., a library that uses LibraryThing that can stand in for all LT zine libraries), enthusiasm (Ziba).

We ended with a go-around of participants priorities for the catalog

Build in consent/challenging processes

Add dark archive functionality–embargo data for time period

Outreach (+3)

to POC zine creators

at zine fests, develop a presentation template

Accessibility (+1)

Fundraising

Sustainability (+1)

Searchability

Documentation and transparency

Ingest models

Visual resources

Project management tools
Decision-Making Discussion
Lauren and Jennifer (who organized the notes at an earlier decision-making process meeting that were used as a basis of this discussion) co-facilitated. The session was live-streamed, and we believe will be published at some point. We'll share that link as soon as we have it.
The proposal, linked above, is open for comments and edits. Please contribute your thoughts and feelings. In general, people seemed enthusiastic, but acknowledged there is still work to be done, especially because the decision-making process is currently designed for member libraries, when currently there are no members, exactly. It was agreed that an Advisory Board is integral to ZineCat's ongoing development and several ZLuC attendees were enthusiastic about forming a "cheer squad" to support the project's development.  We reiterated that in addition to deciding how decisions should be made, we need to institute a project management tool, perhaps RedMine.
Group Hack
Grants Group: brainstormed grants for the whole project, as well as smaller grants for pieces of the project.
Ingest Group: we spent a good amount of time on setting up accounts, so there was no actual ingest. Instead, it was something of an orientation to CollectiveAccess.
Disability/Accessibility Group: assembled a list of resources, things to focus on.  There is also a Zotero Library that has useful resources.
Here are @zinecat-related tweets from the conference. Up next: notes from the post-ZLuC hack at the Queer Zine Archive Project in Milwaukee.