To wrap up International Zine Month, we are remembering zinesters that are no longer with us. This HalloZine, we are we thinking of Jude Vachon. Vachon was a librarian who started the zine library at the Carnegie Library of Pittsburgh in 2008. One of her most widely known projects was a resource she created called Be Well! Pittsburgh. It began as a zine and later became a website, offering detailed lists of Pittsburgh-area healthcare practitioners and clinics available to the poor, the uninsured, and the underinsured. Jude Vachon also co-organized the Feminist Zine Fest Pittsburg with Jayla Patton and Anne Schwann. The reverberations of her work continue to impact the greater zine community.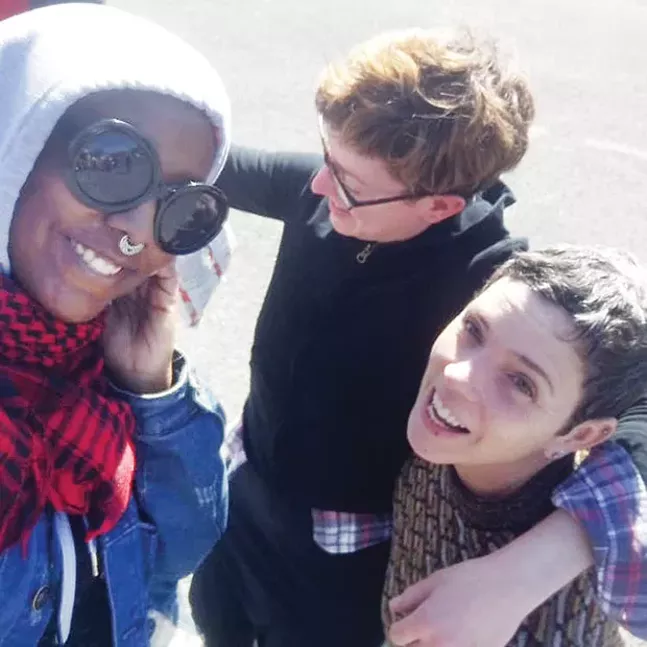 Take this HalloZine to revisit Jude's contribution to Learning to Love You More:
Assignment #40
Heal yourself.
"Cure for Depression"
Jude Vachon
Pittsburgh, Pennsylvania USA
Go and watch some birds. But allow yourself to be intimate about it, and to participate in it yourself. Do not to be an observer with a field guide.
Crows are very, very smart. So smart they'll make you laugh out loud. Feed them several round cookies and watch how they stack them before they make off with them. If you invest yourself they will usually be up for a personal relationship with you, over time.
If you're in the Mid-Atlantic region, watch the huge throngs of starlings gathering and playing all over the skies together and having conferences in trees before they head south for the winter. They are really very good at being loud together.
Blue Jays are huge bitches. They are mean and nasty and scream. Enjoy that.
There's much more.
Do whatever is necessary to make room for this. I do mean whatever is necessary. It's serious.
About Learning to Love You More
Learning to Love You More is both a web site and series of non-web presentations comprised of work made by the general public in response to assignments given by artists Miranda July and Harrell Fletcher. Yuri Ono designed and managed the web site.